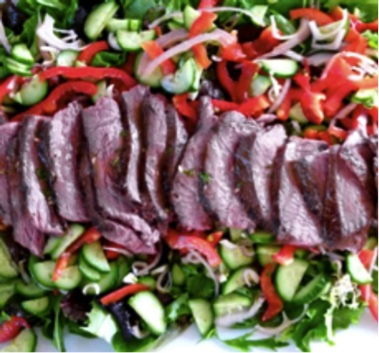 30 Jan

THAI STEAK SALAD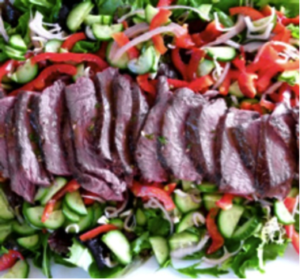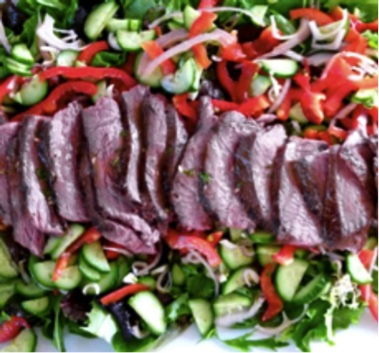 Courtesy of Vital Choice.
Ingredients:
Marinade/Dressing
½ cup freshly squeezed lime juice
½ cup extra virgin olive or macadamia nut oil, divided
2 Tablespoons soy sauce (shoyu or gluten-free tamari)
6 Tablespoons packed fresh cilantro or mint leaves, chopped (or a combo)
1-2 small cloves garlic, minced
¼ teaspoon chili flakes or ½ teaspoon chili-garlic sauce
1 Tablespoon raw honey
Freshly ground black pepper to taste
Beef Salad
1 ½ pounds grass-fed top sirloin or flank steak, about 1-inch thick
Sea salt to taste
1 Tablespoon unrefined coconut oil or organic extra virgin olive oil or organic macadamia nut oil
8 heaping cups salad greens, about 6-7 ounces
2 shallots, thinly sliced
A few handfuls of seasonal veggies, such as thinly sliced cucumber or sweet bell pepper, sprouts, julienned carrots
Fresh mint leaves
Fresh Thai basil leaves
Directions:
Combine lime juice, 6 Tablespoons oil, shoyu, cilantro, garlic, hot pepper, honey, and pepper to taste in a small bowl. Whisk together and set aside.
If steak is thicker than 1 inch, place between two sheets of plastic wrap and pound on both sides. Remove wrap and place meat in a shallow nonreactive dish that is just small enough to hold the meat. Pour half the marinade (about 2/3 cup) over the meat. Cover and marinate in the refrigerator for at least 1 hour or up to 12 hours (longer is better). Take the reserved marinade in the bowl and add 2 Tablespoons olive oil. Set this aside as your salad dressing.
Pull the steak from the refrigerator about 30-60 minutes before cooking it. Preheat oven to 275 degrees or preheat a grill.
Insert a wire rack inside a baking sheet and place the meat on top of the rack and sprinkle with a pinch of salt. Bake for 20-30 minutes for medium to medium-well.
Heat the oil in a heavy skillet, preferably cast iron, over high heat.
Transfer the steak to the skillet and sear for 2-3 minutes on each side for medium to medium-well. (Alternatively, grill over medium heat for about 10 minutes for medium doneness. Transfer meat to a carving board and allow to rest for 10 minutes, covered.)
Assemble the salad greens on a platter and drizzle with half the dressing (about 1/3 cup), tossing to coat. Drizzle the vegetables with half the remaining dressing (about 2 ½ Tablespoons). Toss to coat and arrange on top of the salad. Taste for salt and add as needed.
Slice meat thinly against the grain on a diagonal. Arrange slices of meat on top of the greens and drizzle with remaining dressing.
Warmly
Tony Rump
PS: I'm inviting you to check my Entrepreneur Summit: Health, Wealth and Sanity http://healthwealthandsanity.com/